An Ethereum NFT initiative has released numerous pixel portraits of the late monarch over the last few months to honor Queen Elizabeth II. The initiative's last auction of items celebrating the longest-reigning monarch is now taking place.
The current auction is the 73rd Ethereum-based non-fungible token (NFT) in the collection, and it will be the last to be offered as part of the original collection. 
The news of the queen's passing last night at the age of 96 prompted the project to announce the current auction, which is the latest to be offered as part of the original collection.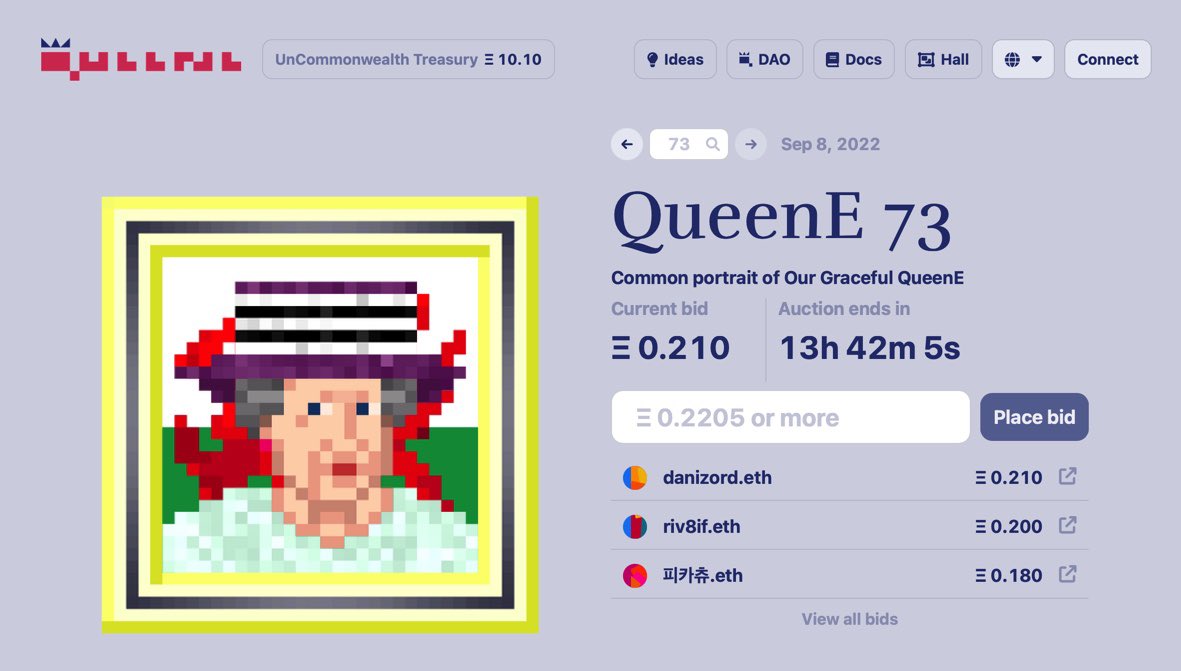 In the previous month of July, QueenE held an auction for the sole Ethereum image designed to honor the queen. There has been a hint on QueenE's Twitter account regarding the future "Gen2" collection, but no information has been made public yet.
This project, which adopted its concept from NFT project Nouns, is a novel NFT project that has allowed buyers to join an exclusive club by auctioning an Ethereum-based photo, to which a low-resolution image of Queen Elizabeth II has been added for a royal touch.
A Web3 development group consisting of Fabio Seva, Everton Matumoto, Vinicius Rodrigues, and a person with the alias mladen.eth built the QueenE NFT. 
This initiative was intended to issue artworks for the remainder of the Queen's reign. Previously, the auction of the QueenE took place every few hours. However, as of late, it occurs once per day.
Portrait of Queen Elizabeth for Auction
The project's Twitter bio states, "Once portraits of the Queen, every day… closing today. Rest in Ethereum forever."
As of this writing, the remaining piece of QueenE Gen 1 NFT has been auctioned for 0.5ETH, or around $825, and the auction ended at approximately 4 AM ET. You can still keep up with the next auction, the Gen 2 auction, even after the Gen 1 auction has ended.
The collection QueenE #23 was sold for 1.9 ETH on July 27; it had the highest sale price of any artwork at the time, around $3,275. Since the passing of Queen Elizabeth II, the market for QueenE NFTs on the secondary market has grown. The current price of listed products on the OpenSea marketplace is 0.88RTH, or an estimated $1,450.
As with the Nouns, the proceeds from the sales are therefore routed into the treasury. The Decentralized Autonomous Organization (DAO) controls this process. Every member of the DAO has a vote on any proposal that may affect the pooled funds.