One of the world's biggest luxury brands, Hermes has filed multiple metaverse trademarks for their products and services. The big luxury brand appears to be making major moves in the metaverse.
USPTO trademark attorney, Mike Kondoudis posted the information on Twitter, explaining that  Hermes has filed a trademark application that covers a range of motions to be made in Web3  – these include non-fungible tokens (NFTs), virtual fashion shows, and virtual currency.
According to the filing to the United States Patent and Trademark Office (USPTO), the trademarks are all related to activities in "online virtual worlds".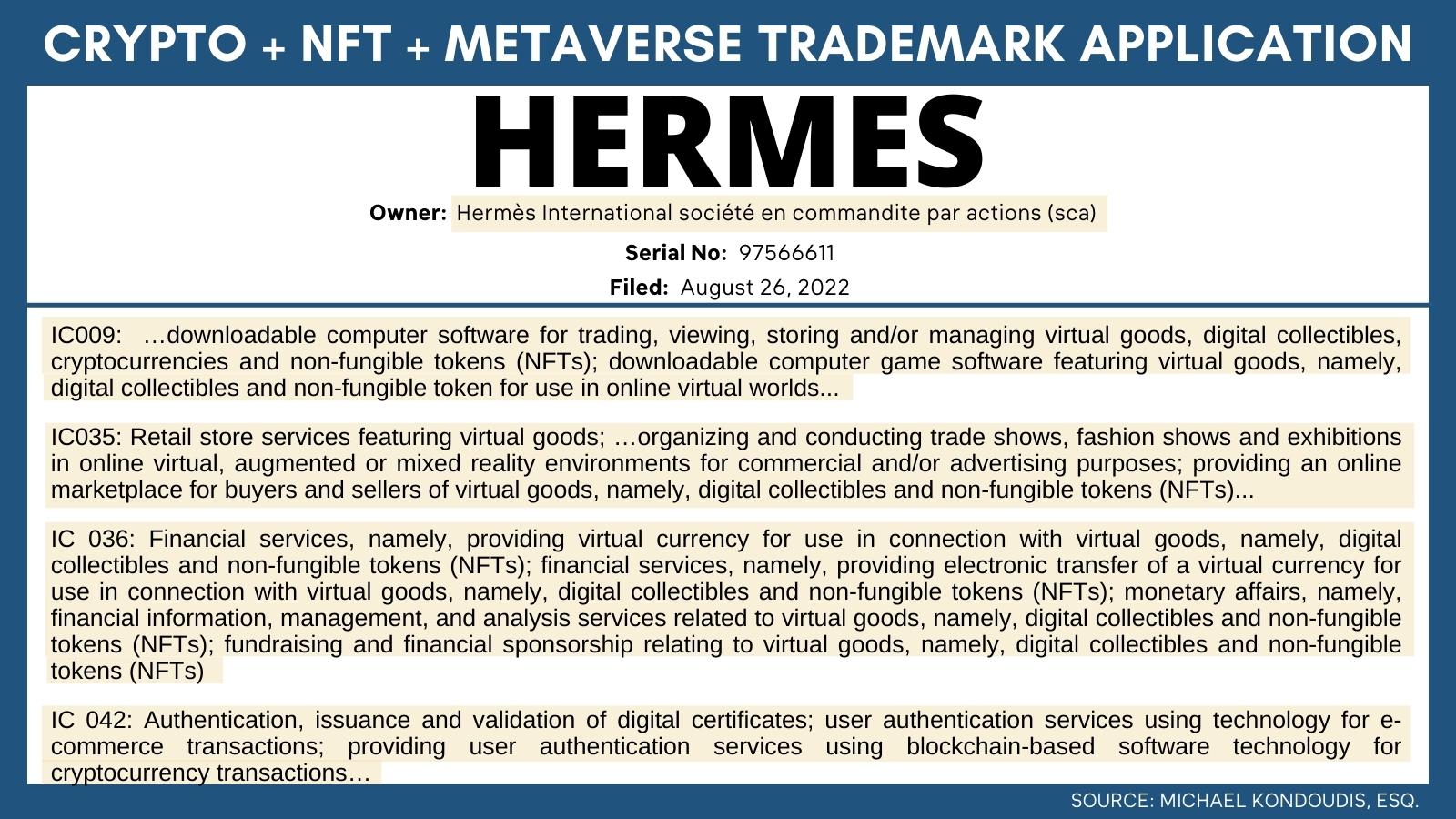 Hermes Prepares A Grand Metaverse Entry
Founded in 1837, the luxury brand specializes in home furnishings, lifestyle accessories, perfumery, jewelry, watches, ready-to-wear, and leather goods. 
It would appear that Hermes is preparing to make a grand entrance into the metaverse while following in the footsteps of its counterparts like Louis Vuitton. 
Chairman of the executive board of Hermes, Axel Dumas, on April 22, said at the recent annual general meeting of shareholders that although the group will still focus on the inheritance of handicrafts, Hermes will consider using the "Metaverse" for communication and publicity in the future. "We are curious and interested in the metaverse," said Dumas, adding that it could be an excellent communication tool.
Further, Hermes also retains the trademarks for "retail store services featuring virtual goods" as well as fashion and trade shows in "online virtual, augmented or mixed reality environments" and for "providing an online marketplace for buyers and sellers of virtual goods."
Patent attorney Mike Kondoudis revealed that Hermès filed a trademark request for cryptocurrencies, NFTs, and the Metaverse with the U.S. Patent and Trademark Office (USPTO) on August 26.
Similarly, if the trademark filings are authorized, Hermès will also propose downloadable computer game software promoting virtual goods and user authentication services using e-commerce technology, among others.
Hermes has recently sued NFT project MetaBirkins. This happened last year in December when the former allegedly accused the latter of using its brand to sell digital collectibles. The luxury brand giant has since then joined other top fashion companies in a journey to attain a foothold in the virtual world.
NFT Trademarks Are Becoming More Conventional Among Popular Brands
Furthermore, the general NFT trademarks markets have surged as more brands continue betting on the sector. As per a recent report, NFT-related trademarks in the United States between January 1 to May 31, 2022, hit 4,049. In this case, on average, 27 new NFT trademarks were filed per day over the reviewed period.
Trademarks are particularly useful for intellectual property rights majorly consisting of words, phrases, symbols, or designs that identify goods and services. Representations of some well-known trademarks include "Apple," "Nike" and "Amazon."
Many popular brands are now leveraging blockchain technology to establish an authentication strategy for their customers. High-end luxury brands that previously issued serial numbers for their products are now using NFTs to deliver authentication for their products. NFTs, give the brands the proficiency to verify one-of-a-kind pieces, or to recognize counterfeit goods, which is a significant quality control issue for trademark owners.