Social media giant, Meta platforms Inc has announced that users of its subsidiary platforms, Facebook and Instagram are now able to post NFTs (non-fungible tokens) and other digital collectibles on the respective social media platforms.
Meta said in a recent statement that this new policy allows users to post the said NFTs on their personal accounts while linking their personal wallets. Third-party wallets including Rainbow, MetaMask, Trust Wallet, Coinbase Wallet, and Dapper Wallet are supported, Meta revealed this, adding supported blockchains including Ethereum, Polygon, and Flow.
"As we continue rolling out digital collectibles on Facebook and Instagram, we've started giving people the ability to post digital collectibles that they own across both Facebook and Instagram. This will enable people to connect their digital wallets once to either app in order to share their digital collectibles across both," Meta said, commenting on the latest update.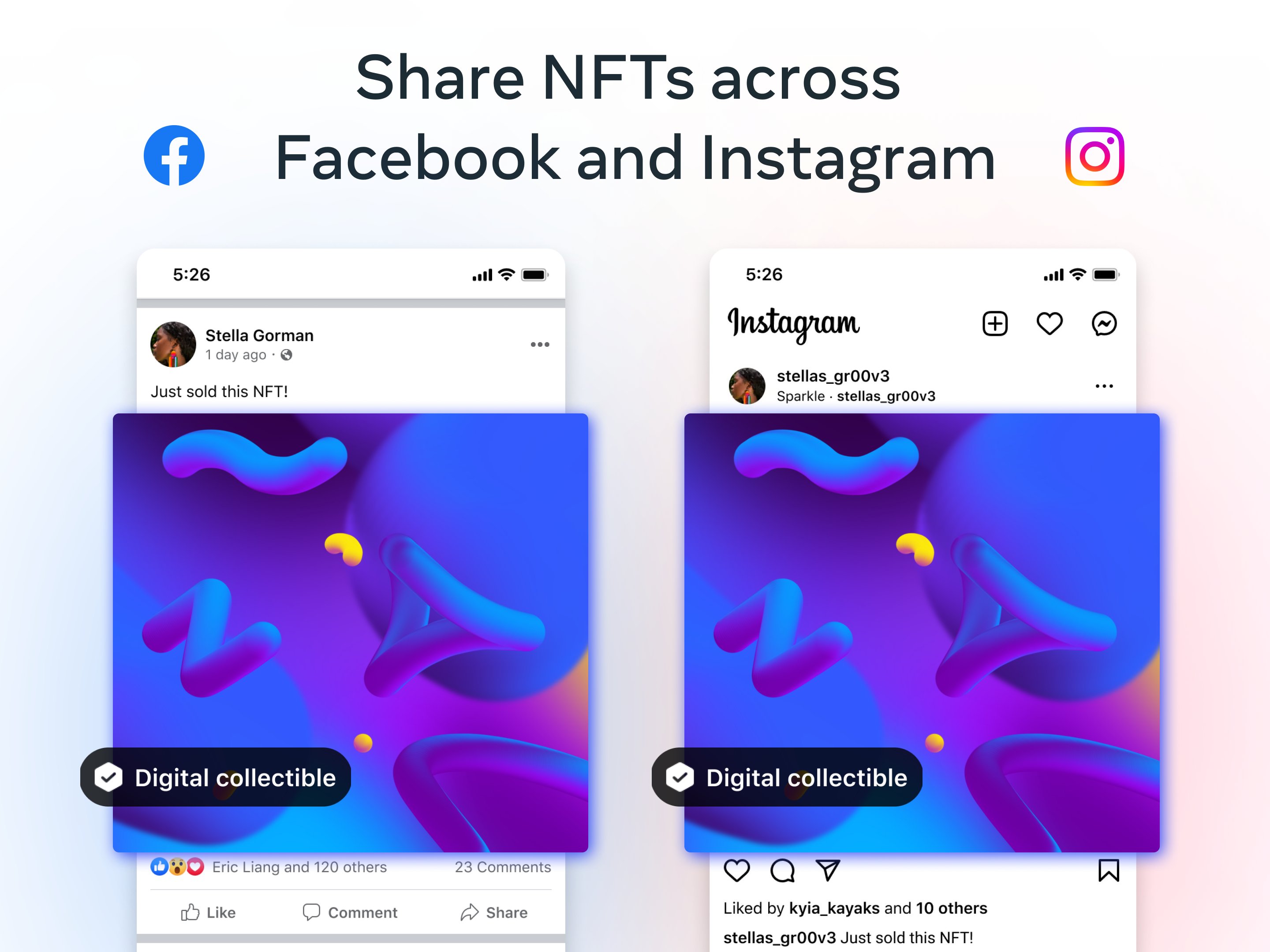 NFT Posting – An Outcome Of Previous Experiments
Since May 2022, Meta is observed to have been experimenting with NFTs on both Facebook and Instagram. As a form of reminder, here's a quick recap  of what Meta has done in the NFTs and digital collectible space until the recent announcement: 
In March 2022, Mark Zuckerberg revealed that NFTs are coming to Instagram soon. A few months later, in May 2022, Instagram began its first set of NFTs testing with a few select creators. Later in June 2022, Mark Zuckerberg increased the number of creators for the ongoing testing and also revealed that NFTs were coming to Facebook soon. In June 2022, similar to how Instagram testing began, Facebook also began showcasing digital collectibles with limited U.S-based creators. Later in July 2022, Meta launched NFT support on Instagram in 100 countries. The current test administered is just an update of these steps. However, the capacity to cross-post NFTs on both Instagram and Facebook is presently available only to U.S.-based users.
Apart from broadening support for showcasing several digital collectibles, persons familiar with the matter have reported that Meta is currently working on tailored animations for NFT posts and digital collectible collections. Earlier this year, Meta boss, Mark Zuckerberg mentioned that Meta will work on displaying non-fungible tokens through Instagram Stories and make them Spark AR compatible, too.
In May, Instagram head Adam Mosseri said that the company is exploring digital collectible sales so creators can have another avenue of making money. The company has also expressed a desire to build a digital art marketplace that could be used to purchase items in the metaverse.
NFTs Custody Sparks Debate, Potential Users Sight Security And Privacy Concerns
Meta Platforms Inc came into the picture shortly after Facebook failed to deliver its proposed native cryptocurrency, Libra, in 2019. At the time, several regulatory bodies, governments, and central banks had moved to block the introduction of Libra to Whatsapp's 2.8 billion users. 
At the strongest point of the setback, Libra faced was the collective effort of the U.S. lawmakers and G7 leaders. Both groups cited Facebook's inefficiency to handle its customers' data in the past, a point that dealt a final blow to Facebook's cryptocurrency ambitions at the time. 
The crypto community is doubtful about the security and safety of the wallets and the NFTs stored in them, citing the past track record of Meta. For instance, one tweep with the handle NPC-Picac said: "I don't think entrusting digital collectibles to connect to 'Meta' is in any way smart."